Vet Tech Associate Degree
Earn your Vet Tech Associate degree online – at home, at your own pace.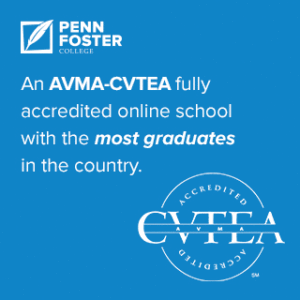 If you enjoy working with animals and want to become a veterinary technician, you can join one of the largest, most vibrant communities by enrolling in the Vet Tech program at Penn Foster College.
Our AVMA-CVTEA fully accredited Veterinary Technician training program can help you gain the skills to take the first steps toward a career as a vet tech in a variety of settings. In our veterinary technician school, you'll study a wide range of topics and gain real-world vet technician experience during the clinical externship portions of the program. Plus, our online courses allow you to earn your Associate Degree at home or on the go, and study on your schedule.
Online Vet Tech degree program

Graduates of the vet tech program will be eligible to take the Veterinary Technician National Examination (VTNE) in order to be credentialed as a licensed veterinary technician. View our VTNE results here. Most states require VTNE candidates to be graduates of a certified veterinary technician program accredited by the American or Canadian Veterinary Medical Association. Penn Foster's Veterinary Technician program meets these requirements.
Why choose Penn Foster's Online Vet Tech program?
Accreditation: One of only a few online veterinary technician degree programs with full accreditation from the American Veterinary Medical Association (AVMA) through their Committee on Veterinary Technician Education and Activities (CVTEA)
VTNE Preparation: Penn Foster College's Vet Tech program has full AVMA-CVTEA accreditation, so graduates are eligible to sit for the VTNE examination
Accomplished Faculty: Including practitioners, authors, and officers and committee chairs of state and national veterinary technology education associations
Employer Connections: Penn Foster has partnerships with some of the largest veterinary hospitals in the country including VCA, Banfield, and BluePearl who recognize the quality of our AVMA-CVTEA accredited program. Students are encouraged to explore these organizations online and inquire about employment opportunities at their local hospital.
Affordable Cost, Amazing Value: One of the most affordable programs in the country.
Largest Student Community: Penn Foster's online Vet Tech degree program has one of the largest student bodies in the nation, and a vibrant online Vet Tech Student Community
CALL NOW FOR SAVINGS OFFERS
---
Other schools do not match our combination of convenience, quality and affordability. Many of our college credits are also recommended by ACE CREDIT. Although every college makes its own decision on the transferability of credits, ACE CREDIT recommendations are considered by more than 2,000 of its participating institutions, helping you get the quality credits you deserve.
Why Choose Penn Foster College?
Join over 40,000 active students and take advantage of Penn Foster's flexible and affordable online associate and bachelor's degree programs, undergraduate certificate programs, and individual college courses.
---
To take advantage of our special TUITION DISCOUNTS or to ask questions about any of our programs, please call us toll-free at 1.888.427.1600, or click below to request more information.
CALL NOW FOR SAVINGS OFFERS